BROADTIME RETAIL MARKETING - Label Newsletter & Chart 7-20-17
Broadtime RSS (Record Store Syndication)
In Store and Online Music Marketing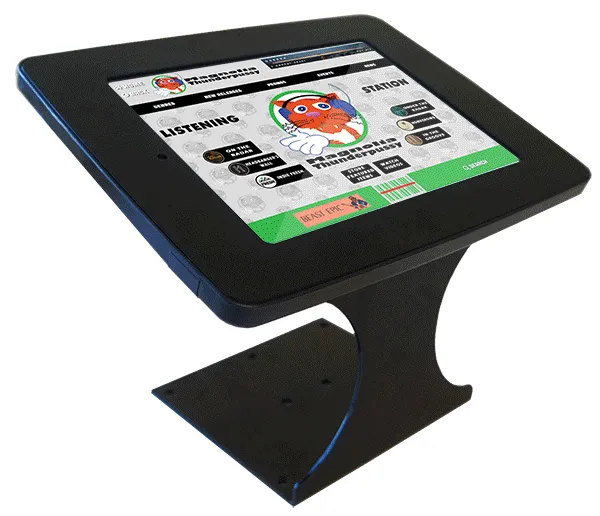 July 20, 2017
Happy Summer everyone!

We are reaching out to our label friends with our periodic update of things Broadtime and Indie Retail.
In the newsletter:
1. NEW Broadtime Listening Station Preview CHART
2. Indie Summer Camp
3. Broadtime new PREORDER Support
4. Latest APP & BPM Developments
5. Broadtime Touring Support
6. Broadtime App Development
7. This Week's Titles & Marketing
_________________________________________________________
1. Listening Station Preview Chart
Broadtime has been working on tapping into our analytics to get a better reporting of the records that folks are previewing on our Listening Stations. While it's still not quite where we would like it to be as far as granularity, we can begin to get a picture of the activity to share and observe how our programs influence the listening popularity.
Week of 7-23-17 through 7-20-17
| | | |
| --- | --- | --- |
| • | 1. | Monks - Hamburg Recordings 1967 |
| • | 2. | Fleet Foxes - Crack-Up |
| | 3. | French Montana - Jungle Rules |
| • | 4. | Ema - Exile In The Outer Ring |
| • | 5. | Stu Larsen - Resolute [LP] |
| • | 6. | Soulwax - From Deewee |
| • | 7. | Public Service Broadcasting - Every Valley |
| | 8. | Jay-Z - 4:44 |
| • | 9. | Violent Femmes - Two Mics & The Truth: Unplugged & Unhinged In America [LP] |
| | 10. | Imagine Dragons - Evolve |
| | 11. | Lo Tom - Lo Tom [LP] |
| • | 12. | ODESZA - A Moment Apart |
| | 13. | Foo Fighters - Concrete And Gold [2LP] |
| | 14. | Oh Wonder - Ultralife |
| • | 15. | Iced Earth - Incorruptible |
| | 16. | Shabazz Palaces - Quazarz: Born on a Gangster Star [LP] |
| | 17. | Beyonce - Lemonade [Deluxe Yellow 2LP] |
| | 18. | Kidz Bop - Kidz Bop 35 |
| • | 19. | Interpol - Our Love To Admire: 10 Year Anniversary Edition [CD/DVD] |
| | 20. | Gorillaz - Humanz |
| | 21. | HAIM - Something To Tell You |
| | 22. | Toro Y Moi - Boo Boo |
| | 23. | Kendrick Lamar - Damn. |
| • | 24. | Iron & Wine - Beast Epic |
| • | 25. | RAC - EGO [2LP] |
| | 26. | Offa Rex - The Queen Of Hearts [LP] |
| | 27. | Baio - Man Of The World |
| | 28. | Gogol Bordello - Walking On The Burning Coal - Single |
| | 29. | Motley Crue - Theatre Of Pain |
| | 30. | Chicano Batman - Freedom Is Free |
| • | 31. | Lorde - Melodrama |
| | 32. | Ed Sheeran - Divide |
| | 33. | Kendrick Lamar - Damn. |
| | 34. | Portugal. The Man - Woodstock |
| | 35. | Kidz Bop - Kidz Bop Dance Party! |
| | 36. | Childish Gambino - Awaken My Love! |
| | 37. | Kashd Out - Hookup |
| | 38. | Prince - Purple Rain: Remastered [Deluxe 2CD] |
| | 39. | DJ Shadow - The Mountain Has Fallen EP [Vinyl] |
| | 40. | Ty Segall - Ty Segall |
| | 41. | The Chainsmokers - Memories...Do Not Open |
| | 42. | Incubus - 8 |
| | 43. | Snoop Dogg - Neva Left |
| • | 44. | Jason Isbell - The Nashville Sound |
| | 45. | Waxahatchee - Out In The Storm [LP] |
| • | 46. | The B-52's - Summer Of Love [Vinyl Single, Summer Of Love Exclusive] |
| | 47. | Various Artists - Soundtrack |
| | 48. | Janis Joplin - Greatest Hits |
| | 49. | Deadmau5 - W:/2016album/ |
| | 50. | Lana Del Rey - Lust for Life |
| | | |
| | | • = BROADTIME RSS MARKETING CAMPAIGN |
_________________________________________________________
2. Indie Summer Camp
Broadtime will be in New Orleans sweating -- er dancing -- happily around the Carousel Bar with all our store and label friends. Like many of you we will have a table to display and discuss our wares with all the great stores attending. Please come by and say hello and get demos of our station and our apps.
_________________________________________________________
3. Preorder Support
There is much to discuss regarding Indie preorder support and this topic will get covered more throughout the summer and at Indie Summer Camp.

As for Broadtime's strategy, we have created another category for our campaigns that are "preorder only" and we are adding additional weeks of support for releases on our regular campaigns.
When on our preorder radar, the release will go into our widely hosted "Upcoming Releases - Preorder" genre on all of the sites and station and apps. We will call attention to the releases with ads and with our news postings
PRE-ORDER CAMPAIGN


_________________________________________________________
4. Latest APP & BPM Station developments
So we have been hard at work making new features or our Mobile Store App and our Stations. This includes a new wishlist function for the App where customers can add the Records they are previewing and want to a wishlist. We are hard at work this summer to get mobile commerce enabled for our apps. If you haven't yet, please download our newest customer's app, Down In The Valley. (http://music.downinthevalley.com/app)
MOBILE APPS


_________________________________________________________
4. BROADTIME ON THE ROAD AND TOUR SUPPORT
As we look to creative ways, to drive more attention to artists and releases at retail, we contemplated the markets where we have website and kiosk customers and the map gives us some really good (and growing) coverage of the country. We are super excited to now have over 80 stations in service at stores around the country.
See Map below and interactively on our Tour Support page.
So, in addition to our tagging and display of videos, banners, and digital signage, we can create concert calendar events in the markets, and create additional signage and banners, and event tagging.
An individual Event for each show will be created and placed on the calendar of each Record Store within the touring market invoking an EVENT tag to be placed on each release of the artist. The tour dates will also be highlighted on The Home Page and Artist Page of each applicable site and Kiosk. (as well as New Release, and featured item pages)
Broadtime will create and provide an individual animated Kiosk screen saver sign and banners for each Record Store located within the touring market calling out the specific local date and venue. These will rotate when station is idle -
MAIN BULLET POINTS:

* It's like getting two ads in one, as there is extra promotion that also cover the concerts
* It's up to 4 Months of ad coverage for the tour
More Info: BROADTIME TOUR SUPPORT
Example: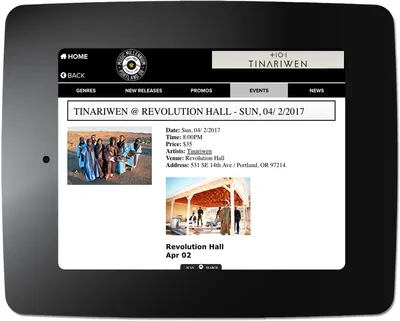 We will add in Tour support on our proposals by default for a modest increase, to cover the cost of the dozen or so banners, signage, and event creation we will undertake. It's optional of course, for some titles it may make more sense to run as we do today.
However, the impact and improved exposure in the touring markets will pull in more and more fans to stores and shows.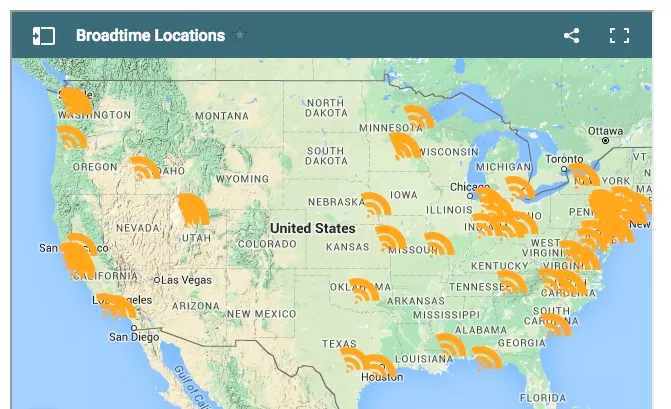 _________________________
6. NEW RELEASE ROUND UP - Courtesy of BK Music Richmond


LANA DEL REY - Lust For Life - Interscope Records
The fifth album from Lana Del Rey includes the singles "Love" and "Lust For Life". Lust For Life also features guest appearances from A$AP Rocky, Stevie Nicks, Sean Lennon, and Playboi Carti.


VIOLENT FEMMES - Two Mics & The Truth: Unplugged & Unhinged In America - PIAS America

Two Mics & The Truth: Unplugged & Unhinged In America is the legendary '80s folk-punks' follow up to last year's critically acclaimed, 'We Can Do Anything'. All of the songs on Two Mics, including iconic favorites such as "American Music" and new hits like "Memory", were recorded during sessions at various radio stations across the country. Violent Femmes came together in 1981 and were quickly applauded as one of the most inventive and original bands of the era, constantly pushing forward with their singular blend of folk and punk, sarcasm and spirituality. The Milwaukee-based band first attracted attention while busking in front of their hometown's Oriental Theatre. The performance caught the ears of that night's headliners, Pretenders Chrissie Hynde and the late James Honeyman-Scott, who invited the young group to open the sold out concert with a brief acoustic set. From there Violent Femmes released eight studio albums and more than a dozen iconic singles. Violent Femmes' remarkable three-decade-plus career has earned them cumulative worldwide sales in excess of 10 million, with 1983's Violent Femmes awarded with RIAA platinum certification eight years after it's initial release.


_________________________________________________________


FOSTER THE PEOPLE - Sacred Hearts Club - Sony
Sacred Hearts Club, is the new album from Foster The People. The album is available on CD, followed by the vinyl LP on August 11th. The album includes the lead single, "Doing It For the Money," and other tracks like "Pay The Man" and "SHC," all three of which were released earlier on the digital EP entitled III. Other new tracks include "Time To Get Closer," "Harden the Paint," "I Love My Friends," and others. Founded in in 2009, Foster the People achieved success with the 2011 release of its debut album Torches, which has sold nearly two million albums and over nine million singles worldwide. Torches features the #1 hit single "Pumped Up Kicks," which was declared "the year's anthem" by SPIN, and also spawned the chart topping singles "Don't Stop (Color On The Walls)," "Houdini,", and "Helena Beat." The band garnered three Grammy nominations for its monumental debut, including Best Alternative Album, Best Pop Duo/Group Performance for "Pumped Up Kicks" and Best Short Form Music Video for "Houdini." Foster The People followed their debut with the full length album Supermodel, which was influenced by frontman Mark Foster's world travels and shifting perspective. Supermodel was recorded in studios around the world and features fan favorites including "Coming of Age" and "Best Friend."

TYLER, THE CREATOR - [Scum Fuck] Flower Boy - Sony
Flower Boy, is the new and long awaited album from Tyler, The Creator. The album follows up 2015's Cherry Bomb. The first track and self-directed video to be released from FLOWER BOY was "Who Dat Boy" featuring A$AP Rocky, along with a second track "911/Mr. Lonely," which feature Steve Lacy and Frank Ocean, respectively. FLOWER BOY is a 14-song album, and the physical version of the CD features two unique covers, the first one designed by Tyler himself and the other by artist Eric White. It is only fitting that Tyler would commission White, whose paintings have been described by Leah Ollman of The Los Angeles Times as being "nostalgic and at the same time also vaguely futuristic, even dystopian," to visually articulate the world of FLOWER BOY.

CHRIS ROBINSON BROTHERHOOD - Barefoot In The Head - Silver Arrow Records
The Chris Robinson Brotherhood release their new album, 'Barefoot In The Head,' on Silver Arrow Records. The 10-track effort, self-produced by the band, marks a third collection of new material in only two years time. For the fourth year in a row, The CRB will play over 120 shows with summer tour dates already announced and fall tour dates to be released shortly.


STU LARSEN - Resolute - Nettwerk Records

Australian singer/songwriter Stu Larsen returns with Resolute, the follow up album to his debut release Vagabond. Larsen recorded Resolute with impromptu voice memos on his phone, architecting a primitive framework for the songs. As Larsen combed through hundreds of files, he tucked himself away in different locations to write the demos - a cottage in Scotland, an apartment in Spain and an army bunker in Australia. Long-time friend, producer and songwriter Luke Thompson eventually joined him at Mike Rosenberg's (aka Passenger) studio in Brighton to finish up the demos. With the ideas solidified, Larsen got more than he bargained for on a stopover for a wedding in Indonesia before formal recording took place in Australia... "My appendix burst," he sighs. "I had to have the operation there. I couldn't fly. I was recovering for about 10 days. Luke knew the songs so well that he was able to start the recording without me, thankfully. Although, I wasn't there for the first two weeks, it was pretty amazing to come into what he put down." Back on his feet, Larsen finished the new album's ten songs. Larsen previewed Resolute with a rough demo of "By The River" that quickly earned half a million Spotify streams. "By The River" is an airy love letter to a New Zealand river that was an arduous process to complete. The song culminates on a wiry and wild solo that, as he describes it, "is the sound of frustration being worked out through my guitar."


_________________________________________________________



RHINO SUMMER OF LOVE - Rhino
Five decades ago, in the Haight-Ashbury district of San Francisco, a social movement was growing. Young people, with heads full of progressive ideas and evolving attitudes toward sex, drugs and rock and roll, were converging on the area to celebrate their personal freedom–an extension of that January's "Human Be-In" in San Francisco's Golden Gate Park. The "Summer of Love," as it was called, was the birth of the modern counterculture, and music played an integral role in the shaping, influencing and mainstreaming of these daring new ideas. Rhino Records will celebrate that historic period with 18 catalog titles this July–including new compilations and vinyl reissues of classic albums. This Tuesday (07/25) the following releases will be available as part of Vinyl Tuesday: Van Morrison - Astral Weeks [Clear LP, Summer Of Love Exclusive], Tim Buckley - Goodbye & Hello (50th Anniversary Edition) [LP, Summer Of Love Exclusive], Judy Collins - Wildflowers (50th Anniversary Edition) [Yellow LP, Summer Of Love Exclusive], Aretha Franklin - Aretha Arrives [LP, Summer Of Love Exclusive], Nuggets - Transparent Days: West Coast Nuggets [Marbled 2LP, Summer Of Love Exclusive], Dusty Springfield - Dusty in Memphis [LP, Summer Of Love Exclusive] and The Zodiac - Cosmic Sounds [Glow In The Dark LP, Summer Of Love Exclusive]. More information and details of the other releases coming from Rhino as part of the Summer Of Love program can be found Here.






_________________________________________________________







For more information on these and other releases out this week, check out our New Releases charts by week section and don't forget that many of these titles are also available on vinyl.
__________________________________________________________________________
Please let us know what project we can shine a spotlight on for you! We are always happy to prepare an example and show you what is possible on our platform for both websites and Broadtime Preview Machines (BPMs).
Please look over the various ways we leverage digital assets to promote your album and reach out to us with any questions.
We are grateful for our growth and looking forward to the new year.
BROADTIME PROGRAM RESOURCES
Cheers,
Jon Berger
Jon@broadtime.com
Chris Jones
Chris@broadtime.com
Broadtime Record Store customers are some of the most successful and influential record stores in the country.
Our website, email, and kiosk store customers are spread throughout the US.



Broadtime • 106 N. Thompson St., Richmond, VA 23221 • 888-582-3229 • www.broadtime.com