BROADTIME RETAIL MARKETING 3-23-18
Broadtime RSS (Record Store Syndication)
In Store and Online Music Marketing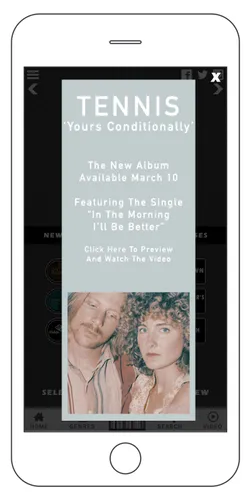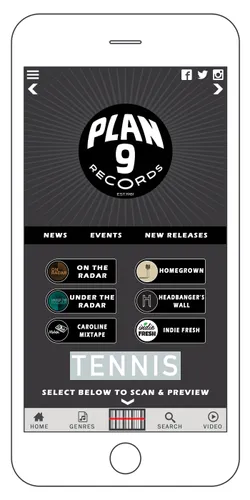 March 23, 2018
I'm trying to streamline the newsletter for easier consumption and creation. Hope everyone is having a super release week. Please reach out to us with questions, opportunities and ways we can coordinate on preorders and setup opportuntites.
I'm sure that everyone has downloaded our apps by now, yes? Please do, and enjoy using the barcode lookup feature with your phone and staying informed from your favorite indie retailers. Pick a CIMS app to download here: CIMS APP PICKER
In the newsletter:
1. Broadtime Listening Station Preview CHART
2. Broadtime INDIE PREORDER Support
3. Latest APP & BPM Developments
4. This Week's Titles & Marketing


_________________________________________________________
1. Listening Station Preview Chart
Broadtime has been working on tapping into our analytics to get a better reporting of the records that folks are previewing on our Listening Stations.
Week of 3-14-18 through 3-22-18

| | | |
| --- | --- | --- |
| • | 1. | The Go! Team - SEMICIRCLE [LP] |
| | 2. | Snoop Dogg - Snoop Dogg Presents Bible Of Love |
| | 3. | The Decemberists - I'll Be Your Girl [LP] |
| • | 4. | Dorothy - 28 Days In The Valley |
| • | 5. | Caroline Rose - Lonver [LP] |
| • | 6. | Jordan Davis - Home State |
| • | 7. | Jonathan Wilson - Rare Birds [LP] |
| | 8. | Thundercat - Drank [Purple LP] |
| | 9. | Paul Simon - Ultimate Collection (Uk) |
| • | 10. | Teenage Wrist - Chrome Neon Jesus [LP] |
| | 11. | Superorganism - Superorganism |
| • | 12. | Editors - Violence [LP] |
| | 13. | Megadeth - Risk |
| | 14. | Murs - A Strange Journey Into The Unimaginable |
| • | 15. | Andrew Lloyd Webber - Unmasked: The Platinum Collection [2CD] |
| | 16. | Jimi Hendrix - Both Sides Of The Sky |
| • | 17. | Hot Snakes - Jericho Sirens [LP] |
| | 18. | Dave Brubeck Quartet - Time Out |
| | 19. | Rammellzee 2010 - Ransom Note |
| • | 20. | Field Report - Summertime Songs [LP] |
| | 21. | David Sanborn - Heart to Heart |
| • | 22. | Naked Giants - Sluff |
| | 23. | SZA - Ctrl |
| • | 24. | Ben Harper And Charlie Musselwhite - No Mercy In This Land |
| | 25. | I'm With Her - See You Around |
| | 26. | Jimi Hendrix - Both Sides Of The Sky [LP] |
| • | 27. | Frankie Cosmos - Vessel |
| | 28. | Green Druid - Ashen Blood |
| • | 29. | Editors - Violence |
| | 30. | Stone Temple Pilots - Stone Temple Pilots [2018] |
| • | 31. | Hinds - I Don't Run |
| • | 32. | Courtney Barnett - Tell Me How You Really Feel [LP] |
| | 33. | Feedtime - Today Is Friday |
| | 34. | Paul Simon - Graceland: 25th Anniversary Edition (Dlcd) (Aniv) |
| • | 35. | Sloan - 12 [Limited Edition Translucent Purple LP] |
| | 36. | Narcotic Wasteland - Delirium Tremens |
| | 37. | King Gizzard & The Lizard Wizard - Polygondwanaland [Tri-Color Split Wax LP] |
| | 38. | Mt. Joy - Mt. Joy |
| • | 39. | Keith Jarrett/Gary Peacock/Jack DeJohnette - After The Fall [2CD] |
| | 40. | The Nick Moss Band - The High Cost of Low Living Featuring Dennis Gruenling |
| | 41. | Yo La Tengo - There's A Riot Going On [LP] |
| • | 42. | Sons Of Kemet - Your Queen Is A Reptile [LP] |
| • | 43. | Lord Huron - Vide Noir [2LP] |
| | 44. | The Fratellis - In Your Own Sweet Time [LP] |
| • | 45. | Kacey Musgraves - Golden Hour [LP] |
| • | 46. | Blackberry Smoke - Find a Light |
| • | 47. | Sunflower Bean - Twentytwo In Blue [LP] |
| | 48. | Stills/Young - Long May You Run |
| • | 49. | Bettye Lavette - Things Have Changed |
| • | 50. | Joshua Hedley - Mr Jukebox |
• = BROADTIME RSS MARKETING CAMPAIGN
_________________________________________________________
2. Preorder Support
We know Preorder setup is where the action is currently. All of our sites now support preorders on the following URL http://[sitename].com/preorders
Example: http://omegamusicdayton.com/preorders

As for Broadtime's strategy, we have created another category for our campaigns that are "preorder only" and we are adding additional weeks of support for releases on our regular campaigns. THIS MAKES OUR PROGRAMS LONGER! (6 weeks? 8 weeks?)
When your title is on our preorder radar, the release will go into our widely hosted "Upcoming Releases - Preorder" genre on all of the sites and station and apps. We will call attention to the releases with banner ads and with our news postings
PRE-ORDER CAMPAIGN


_________________________________________________________
3. Latest APP & BPM Station developments
We believe very strongly that Mobile Apps represent a new frontier of marketing the stores and connecting our record store brands to their customer base in exciting new ways. By delivering a listening station to every customer's pocket we can then reach them with friendly messages to increase engagement. Our website customers with mobile apps enjoy mobile e-commerce supported by AEC fulfillment.
We are super proud to be working with the forward thinking CIMS stores and management to bring about powerful new marketing tools to that coalition. We respect and appreciate working so closely with them.
So we have been hard at work making new features or our BPM Mobile Store App and our BPM Stations. This includes a new wishlist function for the App where customers can add the records they are previewing and want to a WISHLIST. We NOW HAVE mobile commerce enabled for our apps. If you haven't yet, please download one of our newest customer's app, Down In The Valley. (http://music.downinthevalley.com/app)
BROADTIME POWERED MOBILE APPS



Cactus Music, TX *NEW
Central Square Records, FL *NEW
Darkside Records, NY *NEW
Dearborn Music, MI *NEW
Down In The Valley, MN *NEW
Easy Street Records, WA *NEW
Electric Fetus, MN *NEW
Euclid Records, MO *NEW
Fingerprints, CA *NEW
Homer's Music, NE *NEW
Indy CD And Vinyl, IN *NEW
The Long Ear, ID *NEW
Looney Tunes, NY *NEW
Lou's Records, CA *NEW
Magnolia Thunderpussy, OH *NEW
Music Millennium, OR *NEW
Omega Music, OH *NEW
OZ Music, AL *NEW
Park Ave CDs, FL *NEW
Peaches Records, LA *NEW
Plan 9 Records, VA *NEW
Pure Pop, VT *NEW
Record Archive, NY *NEW
The Record Exchange, ID *NEW
Rhino Records, CA *NEW
Rockin' Rudy's, MT *NEW
Salzer's Records, CA *NEW
Schoolkids Records, NC *NEW
Skip's Records & CD World, OR *NEW
Streetlight Records, CA *NEW
Strictly Discs, WI *NEW
T-Bones Records & Cafe, MS *NEW
Tunes, NJ *NEW
Twist & Shout, CO *NEW
Vinyl Renaissance, KS *NEW
Waterloo Records, TX *NEW
Wooden Nickel Records, IN *NEW

_________________________________________________________
4. BROADTIME ON THE ROAD AND TOUR SUPPORT As we look to creative ways, to drive more attention to artists and releases at retail, we contemplated the markets where we have website and kiosk customers and the map gives us some really good (and growing) coverage of the country. We are super excited to now have over 80 stations in service at stores around the country.
See Map below and interactively on our Tour Support page.
So, in addition to our tagging and display of videos, banners, and digital signage, we can create concert calendar events in the markets, and create additional signage and banners, and event tagging.
An individual Event for each show will be created and placed on the calendar of each Record Store within the touring market invoking an EVENT tag to be placed on each release of the artist. The tour dates will also be highlighted on The Home Page and Artist Page of each applicable site and Kiosk. (as well as New Release, and featured item pages)
Broadtime will create and provide an individual animated Kiosk screen saver sign and banners for each Record Store located within the touring market calling out the specific local date and venue. These will rotate when station is idle -
MAIN BULLET POINTS:

* It's like getting two ads in one, as there is extra promotion that also cover the concerts
* It's up to 4 Months of ad coverage for the tour
More Info: BROADTIME TOUR SUPPORT
Example: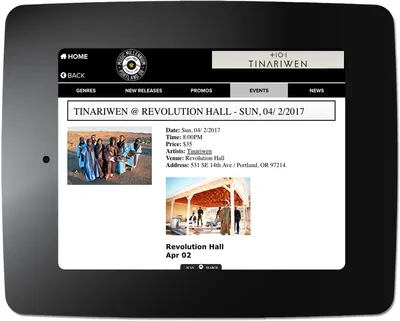 We will add in Tour support on our proposals by default for a modest increase, to cover the cost of the dozen or so banners, signage, and event creation we will undertake. It's optional of course, for some titles it may make more sense to run as we do today.
However, the impact and improved exposure in the touring markets will pull in more and more fans to stores and shows.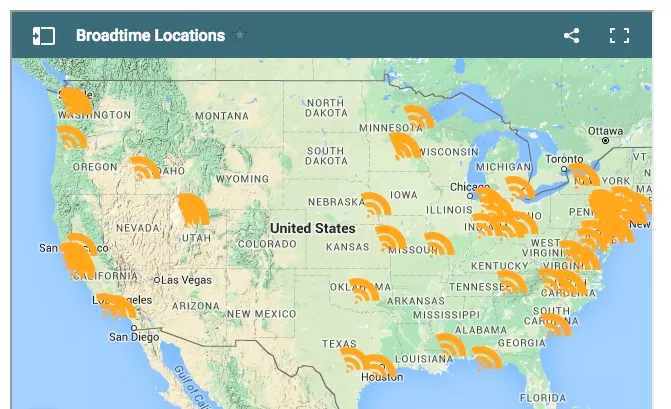 _________________________
5. NEW RELEASE ROUND UP - Courtesy of MONSTER MUSIC, Charleston, SC.
Jack White - Boarding House Reach - Third Man Records
Boarding House Reach is the new solo album from Jack White, and is a testament to the breadth of the artist's creative power and his bold artistic ambition. This new material finds Jack White expanding his musical palate with perhaps his most ambitious work thus far, a collection of songs that are simultaneously timeless and modern. Written and conceived while holed up in a spartan apartment with literally no outside world distractions, White exclusively used the same kind of gear he had when he was 15 years old (a quarter-inch four-track tape recorder, a simple mixer, and the most basic of instrumentation). The album explores a remarkable range of sonic terrain -- crunching rock 'n' roll, electro and hard funk, proto punk, hip hop, gospel blues, and even country -- all remapped and born anew to fit White's matchless vision and sense of restless experimentation.

Led Zeppelin - How The West Was Won: Remastered [3CD] - Atlantic
How The West Was Won highlights the best performances from Led Zeppelin's legendary concerts at the Los Angeles Forum and Long Beach Arena on June 25 and 27, 1972. Melded together and sequenced to replicate a single concert from beginning to end, the three-CD and four-LP collections capture the band at the height of its formidable powers. Standouts include a 25-plus minute version of "Dazed And Confused" and a 21-minute medley based around "Whole Lotta Love." The performances also capture the band introducing songs from its then-unreleased album Houses Of The Holy, which would be released nine months later.


Field Report - Summertime Songs - Verve
Wisconsins Field Report return with their third album, Summertime Songs – a collection of folk rock written by Chris Porterfield, combining narrative lyrics and the sound of the American heartland.


_________________________________________________________


Sunflower Bean - Twentytwo In Blue - Mom & Pop Music
The first track off Twentytwo In Blue, I Was A Fool has gained over a million streams and received press praise from The New York Times, Billboard, Entertainment Weekly, Pitchfork, MTV, NPR and more. The follow-up track, Crisis Fest is a call to millennial arms, melding pop shimmer and drive with the personal and political. 2017 we know/ Realitys one big sick show/ Every days a crisis fest, Cumming sings. Twentytwo is only one example of a gentler side of Sunflower Bean that's on display on the new album. While the trio remains a guitar band at its core, new and different textures shine on this new album. Sunflower Beans diverse sound has allowed them to tour alongside DIIV, Best Coast, Pixes and Wolf Alice. Their 2018 is filled with headline shows, festivals and a tour with Sleigh Bells. The New York times named them Spirited interpreters of rock n rolls eternal truths, the three early-20s New Yorkers who make up Sunflower Bean are equally adept at studio finesse (witness their recent single I Was a Fool) and raucous live noise.

Courtney Marie Andrews - May Your Kindness Remain - Fat Possum Records
'May Your Kindness Remain' is Courtney Marie Andrews statement piece. It is the follow up album to Courtney Marie Andrews critically acclaimed 2016 album Honest Life, which made Rolling Stone's list of the "Top 40 Country Albums of 2016" and was The Bluegrass Situation's Album of the Year. She even appeared on an episode of 'Later…with Jools Holland." She has toured with The Head & The Heart, Big Thief, Hamilton Leithauser and more.


Jordan Davis - Home State - MCA Nashville
Home State includes the singer/songwriter's infectious single Singles You Up in addition to the previously-released tracks Slow Dance In A Parking Lot and Take It From Me. Known for his unique songwriting talent, Jordan co-wrote every track on HOME STATE and teamed up producer Paul DiGiovanni for the entire 12-song collection. "Making this record has been one of the most rewarding things I've ever done," says Jordan. "I want to thank everyone who was involved in bringing this to life, especially to my producer Paul Digiovanni and the songwriters that helped me create these songs. I can't wait for y'all to hear it." Jordan Davis continues to draw critical acclaim with Rolling Stone commending Jordan for melding the songcraft of artists like John Prine and Jim Croce with the genre's pop progressiveness. The Tennessean notes, in the vein of Sam Hunt, Davis pairs syncopated melodies and ultra-progressive production with smooth vocals and contemporary vernacular.


_________________________________________________________
UPCOMING RELEASES


Naked Giants - Sluff - New West Records
Sluff is the debut release from the Seattle, WA band, Naked Giants. SLUFF is a collection of songs the band has been writing and performing over the past few years. The specific goal was to capture "THAT live energy" in a recording, but as the energies of the studio processes began to mingle, the album became an entity unto itself. Bassist Gianni Aiello explains, "We played our very best on this album, but there are still a good amount of mess-ups and rough edges that give it that 'first album' character. The album gets its personality in large part from the play between the planned and unplanned. With producer Steve Fisk (Nirvana, Low, Damien Jurado, The Posies), we could carefully craft some particular sonic signatures just as easily as stumble upon some random noise or mic technique. There's no underlying concept for the album, but it's this sort of order and chaos attitude which gives it a cohesive feeling." SLUFF is a rock and roll record for the modern rock and roller. Some songs are long, some are short, and some are even shorter than that. It's full of hooks and plenty of guitar solos. The most important thing is that everything hits you all at once, feeling like it could all happen in a matter of seconds. This is the Naked Giants thesis statement...for now.


_________________________________________________________
Bettye LaVette - Things Have Changed - Verve
For her tenth album and first album on a major label in nearly fifty years, legendary soul singer Bettye LaVette takes on the songs of Bob Dylan with the grit and experience that makes her one of the greatest living soul singers alive. Things Have Changed is a masterpiece of interpretation of one of the greatest songwriters alive, by one of the greatest soul singers alive. Produced by Steve Jordan, the album spans Dylan's catalogue and features guest appearances by Keith Richards and Trombone Shorty.


_________________________________________________________
Sons Of Kemet - Your Queen is a Reptile - Impulse Records
Sons Of Kemet is the iconoclastic mix of tenor sax, tuba and double drums. On this third studio album, they bring a genre defying approach that celebrates the restless exploration of identity within the Caribbean diaspora within the U.K. Your Queen is a Reptile was recorded in London with a host of guests spanning the breadth of the U.K. scene including jungle legend Congo Natty and poet Joshua Idehen.


_________________________________________________________


Kacey Musgraves - Golden Hour - MCA Nashville
Golden Hour follows the massive success of Kacey Musgraves's critically-acclaimed albums Same Trailer Different Park, Pageant Material and A Very Kacey Christmas. Both Same Trailer Different Park and Pageant Material debuted at #1 on Billboard's Top Country Albums chart, with Kacey becoming the first solo female in 5 years to top the chart with a rookie release and only the seventh to do so in Nielsen SoundScan's 22-year history. Kacey has won 2 Grammy Awards for Best Country Album and Best Country Song ("Merry Go 'Round"), 2 CMA Awards for "New Artist of the Year" and "Song of the Year" ("Follow Your Arrow"), and an ACM Award for Album of the Year.


_________________________________________________________
Frankie Cosmos - Vessel - Sub Pop
New York native songwriter and composer Greta Kline has shared a bounty of her innermost thoughts and experiences from the past six years through the almost inconceivable number of songs she has released since 2011. Like many of her peers, Kline's prolific creative output was initially born out of an era where bedroom recording and self-releasing became more possible than ever through the advent of the internet. But as she's grown as a writer and performer, playing to larger audiences and devising more complex albums, Kline has shifted from an artist who's made strides despite limitations, to an artist whose impact can be seen across modern independent music. Her newest record, Vessel, which will be out spring 2018 through Sub Pop Records, is the 52nd release from Kline and the third studio album by her indie pop outfit Frankie Cosmos. On it, Kline explores all of the changes that have come in her life as a result of the music she has shared with the world for the past half-decade, as well as the parts of her life that have remained irrevocable.


_________________________________________________________


Ben Harper And Charlie Musselwhite - No Mercy In This Land - Anti
No Mercy In This Land is a blues record. Charlie Musselwhite and Ben Harper were introduced to one another by John Lee Hooker. The legendary musician thought the two men should play together, so he brought them into the studio to record a song called simply "Burnin' Hell." The two remained friends and their paths periodically crossed out there on the road. But it wasn't until 2013 that the two met up in a studio to record what would be their Grammy winning album Get Up!. And as good as that record was, it was just the beginning. Both men agree that their friendship deepened in the many months of touring that followed. And it's that bond, that closeness, that makes this new record something special. At first glance, Ben Harper and Charlie Musselwhite might seem an unlikely pairing. While Ben grew up in in the tree lined Southern California college town of Claremont, a bastion of culture and liberalism just east of Los Angeles, Charlie was raised in Memphis during the time of rockabilly and Sun Records. But while the two might have come to their musical knowledge in different eras and places, as Charlie explains, "We were both searchers and we're still seeking." Each of them possess an enduring hunger for musical knowledge that came to them early.


_________________________________________________________
For more information on these and other releases out this week, check out our New Releases charts by week section and don't forget that many of these titles are also available on vinyl.

Broadtime • 106 N. Thompson St., Richmond, VA 23221 • 888-582-3229 • www.broadtime.com